So you've shot and edited your video content, launched the website for your course, product, or service, but are still seeing low numbers of organic traffic? For a regular site you would start thinking about an SEO strategy, but this is a video, and Google and other search engines can't read and crawl the content of videos, right? Well, that's not quite true anymore. In this article we'll talk about ways to do SEO for videos and how muse.ai is uniquely positioned to help with that.
Intent and Keywords
Let's start with the basics. One of the most important things before you start optimizing your content for discoverability is knowing your target audience. Spend a few minutes trying to understand how they would think and what they would search for to discover your content. This could be as simple as going to Google and trying to find similar existing content. Doing that will already give you an idea what keywords you would use yourself, and what content is out there that you will be competing against.
Title and Description
Once you have decided on the keywords and phrasing, the first thing you should think about is the title and description of your video. These two pieces of content are still crucial, and also give you full control over the exact words you use. Some things to keep in mind when composing the title and description is including the keywords early in the text. The rule of thumb for the description is to have the keywords within the first two hundred characters.
Videos as Text
Wouldn't it be nice if search engines could read and index the video like they do with text? This is where muse.ai comes in. Every video you upload to muse.ai is automatically transcribed and analyzed. You can then easily embed these video transcriptions, words that appear on screen, object labels, people's names and more right alongside your video. This will not only save you hours producing long texts to accompany your videos, but will also allow the search engines to have direct access to the otherwise opaque content.
Code:
<script src="https://muse.ai/static/js/embed-player.min.js"></script>
<div class="muse-video-data" data-video="FTBViRx" data-content="speech"></div>
Result:
And so we're getting really close to the first launch of astronauts into orbit from American soil since two thousand eleven.
Rich Search Results
One other recent approach to video SEO that can give you an upper hand is making it available as rich search results by using structured data markup. You have probably seen it in action when Google displays videos among search results. Now you can make your videos appear there as well, and in fact muse.ai automatically does that for you every time you embed a video on your site.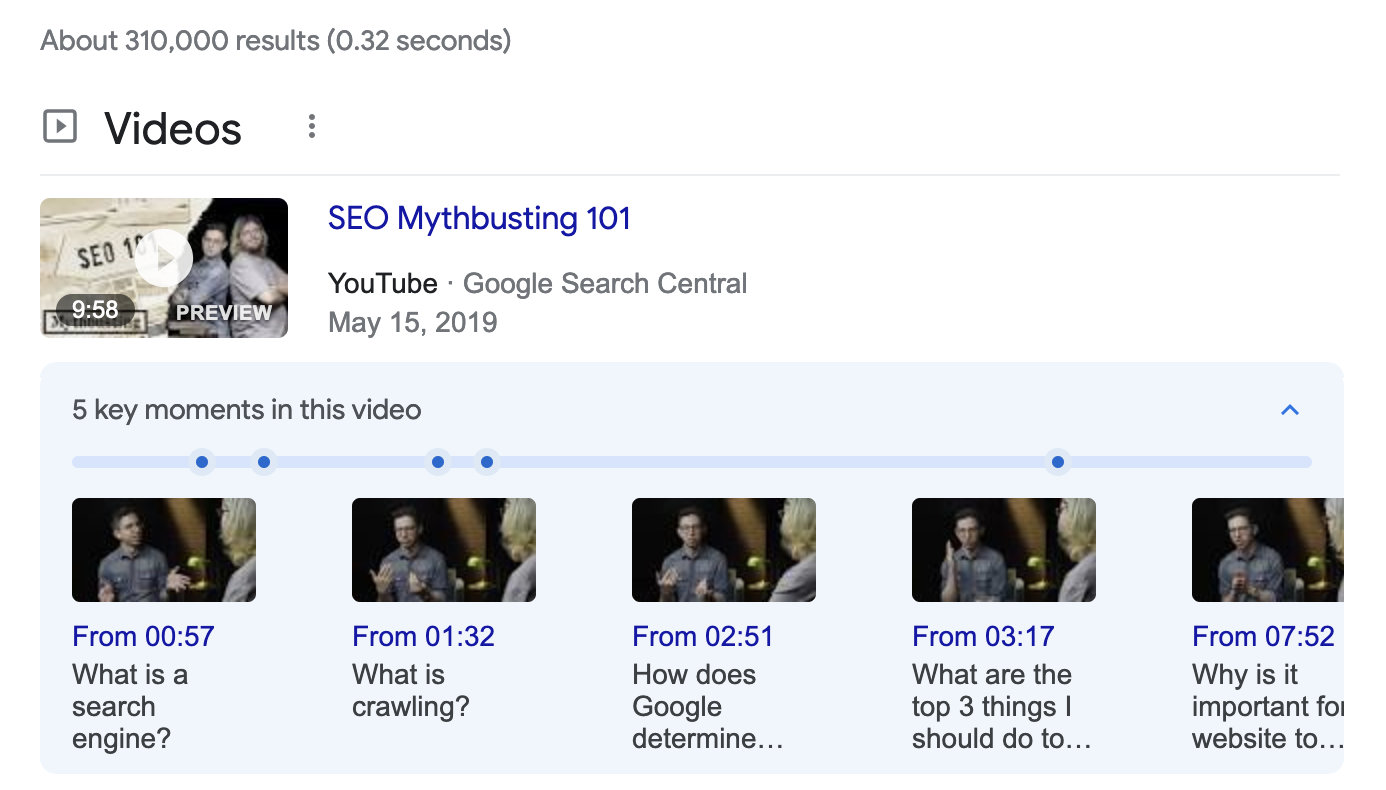 You can also give it a boost by adding chapters to your video. On muse.ai it is as easy as listing them in your video description as time and chapter title pairs each on a new line. Once you do that, they will be automatically included in the structured data and picked up by search engines.
Thumbnails
Last but not least, we also recommend you to create enticing thumbnails for your video. Your video may appear high in search results, but if there's another one nearby with a more alluring thumbnail, users may opt for that, because especially for a video the visual part plays a significant role.
Check out the muse.ai video SEO features for yourself.
Try it free